Effects of F0 acoustic parameters on the perception of Serbian lexical pitch accents
Кључне речи:
lexical pitch accents, F0, alignment, height, perception
Сажетак
The study examines the discrimination of Serbian lexical pitch accent types by English, Mandarin, and Persian listeners. These groups of speakers were selected because of different word-prosodic systems of each language. For example, Serbian is a lexical pitch accent language, English is a stress-accented language, Mandarin is a tone language, and Persian could likely belong either to stress languages or to lexical pitch accent languages. All the participants were naïve listeners, that is, they had never been exposed to Serbian prior to the task. The participants were required to carry out an AX task on short Serbian sentences in which 1) a target item was not manipulated at all, 2) a target item's F0 alignment was modified, 3) a target item's F0 height was modified, and 4) a target item's F0 alignment and height were modulated in tandem. The results showed that both the F0 alignment and F0 height had an impact on the perception of Serbian lexical pitch accents for Mandarin and English speakers, but not for Persian speakers, which suggested that the perception of lexical pitch accents was contingent on the speakers' L1 prosodic system.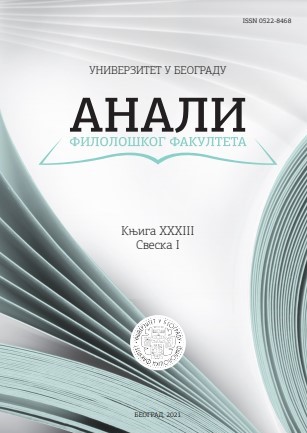 Downloads
Како цитирати
Nikolić, D. . (2021). Effects of F0 acoustic parameters on the perception of Serbian lexical pitch accents. Анали Филолошког факултета, 33(1), 13–27. https://doi.org/10.18485/analiff.2021.33.1.1
Лиценца
Овај рад је под Creative Commons Aуторство-Дели под истим условима 4.0 Интернационална лиценца.
Authors who publish with this journal agree to the following terms:
Authors are confirming that they are the authors of the submitting article, which will be published (print and online) in the journal Anali filološkog fakulteta by the Faculty of Philology, University of Belgrade (Faculty of Philology, Studentski trg 3, 11000 Belgrade, Serbia). Author's name will be evident in the printed article in the journal. All decisions regarding layout and distribution of the work are in hands of the publisher.
Authors guarantee that the work is their own original creation and does not infringe any statutory or common-law copyright or any proprietary right of any third party. In case of claims by third parties, authors commit their self to defend the interests of the publisher, and shall cover any potential costs.
Authors retain copyright and grant the journal right of first publication with the work simultaneously licensed under a Creative Commons Attribution-ShareAlike 4.0 International License that allows others to share the work with an acknowledgement of the work's authorship and initial publication in this journal.
Authors are able to enter into separate, additional contractual arrangements for the non-exclusive distribution of the journal's published version of the work (e.g., post it to an institutional repository or publish it in a book), with an acknowledgement of its initial publication in this journal.
Authors are permitted and encouraged to post their work online (e.g., in institutional repositories or on their website) prior to and during the submission process, as it can lead to productive exchanges, as well as earlier and greater citation of published work.