Pisanje o sebi, pisanje sebe
Кључне речи:
autobiografija, autofikcija, autor, personalni tekst, autentičnost, istorija, ideologija, kultura, pisanje
Сажетак
Kada je 1977. Serž Dubrovski definisao žanr autofikcije, istovremeno je pokrenuo teorijsku raspravu o njegovim mogućnostima i granicama. Jedno od osnovnih pitanja je razgraničenje žanra autofikcije u odnosu na tradicionalnu autobiografiju. Zbirka eseja Writing the Self (Pisanje sebe) donosi trideset eseja u kojima se ispituju granice, mogućnosti i tumačenja autofikcije u okviru šireg konteksta poetike postmodernizma. Pitanja kao što su ontološki status teksta i autora personalnog narativa, autentičnost bića i svesti koja piše tekst i kulturološka, politička i istorijska obojenost personalnog diskursa predstavljaju neke od preokupacija autora ovih eseja. Cilj ovog teksta je da predstavi istraživanja koja su opisana u esejima kao i da ukaže na glavne teme rasprave o personalnom tekstu.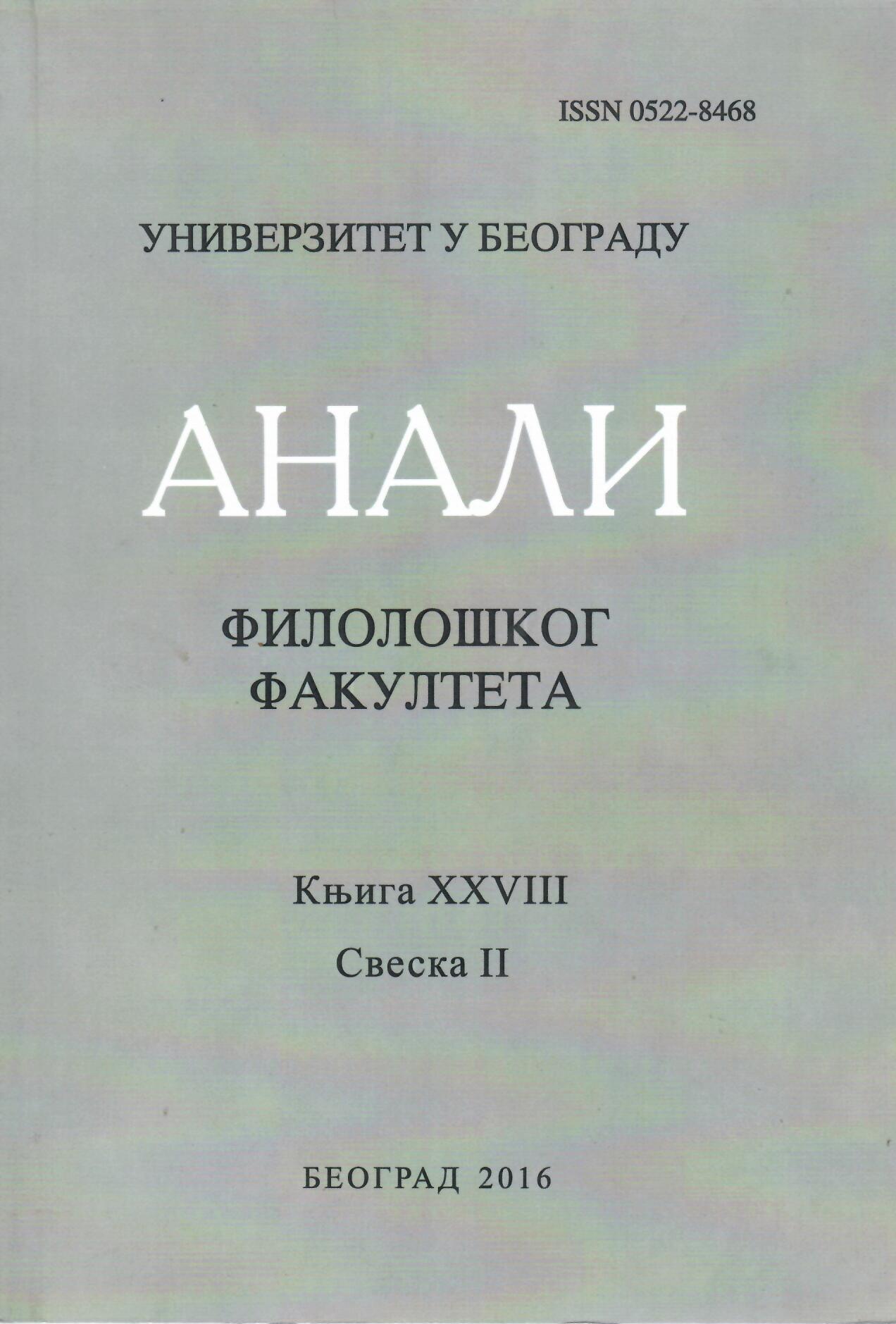 Downloads
Како цитирати
Jovanović, A. V. . (2016). Pisanje o sebi, pisanje sebe. Анали Филолошког факултета, 28(2), 25–36. https://doi.org/10.18485/analiff.2016.28.2.2
Лиценца
Овај рад је под Creative Commons Aуторство-Дели под истим условима 4.0 Интернационална лиценца.
Authors who publish with this journal agree to the following terms:
Authors are confirming that they are the authors of the submitting article, which will be published (print and online) in the journal Anali filološkog fakulteta by the Faculty of Philology, University of Belgrade (Faculty of Philology, Studentski trg 3, 11000 Belgrade, Serbia). Author's name will be evident in the printed article in the journal. All decisions regarding layout and distribution of the work are in hands of the publisher.
Authors guarantee that the work is their own original creation and does not infringe any statutory or common-law copyright or any proprietary right of any third party. In case of claims by third parties, authors commit their self to defend the interests of the publisher, and shall cover any potential costs.
Authors retain copyright and grant the journal right of first publication with the work simultaneously licensed under a Creative Commons Attribution-ShareAlike 4.0 International License that allows others to share the work with an acknowledgement of the work's authorship and initial publication in this journal.
Authors are able to enter into separate, additional contractual arrangements for the non-exclusive distribution of the journal's published version of the work (e.g., post it to an institutional repository or publish it in a book), with an acknowledgement of its initial publication in this journal.
Authors are permitted and encouraged to post their work online (e.g., in institutional repositories or on their website) prior to and during the submission process, as it can lead to productive exchanges, as well as earlier and greater citation of published work.